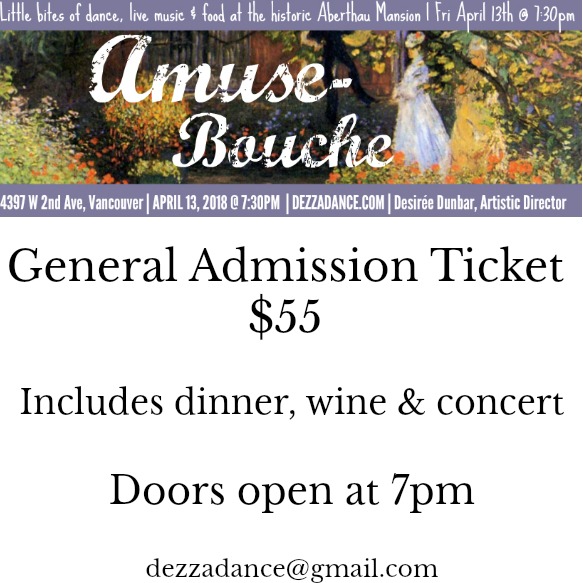 Amuse-Bouche
We warmly welcome you to join us FRI APRIL 13TH at 7:30pm.
Aberthau Mansion is located at 4397 W 2nd Avenue in Vancouver. Free parking.

Get in the mood and grab your favourite Parisienne accessories to arrive in style for this dinner party style event in the gorgeous dining room at Aberthau Mansion/ West Point Grey Community centre.
Doors open at 7PM. General Admission Seating.
Upon purchase your name is added to our VIP guest list (no need for a hardcopy ticket). We look forward to seeing you soon!
Questions? Ask away at dezzadance@gmail.com

Dezza Dance artists: Marc Arboleda, Mark Atherton, Melody Yvonne Chan, Chef Dylan-Foss, Rachel Helten, Jenna Kraychy, Kerstin Luettich, Garrick Jang, Linda Maschak, Linda Rosenheck, Derya Whaley-Kalaora, Glenna Wong & Lan Yook

We gratefully acknowledge the support of West Point Grey Community Association & Vancouver park Board
See you soon!